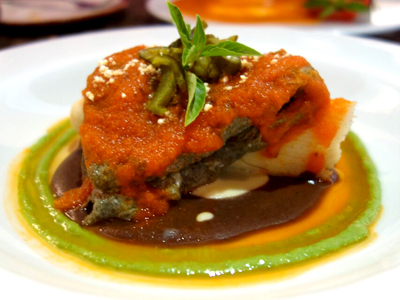 "We're still the place that people stop through on their way somewhere else," said Antonio Guzman, the manager at Lu Cocina Michoacana. We're sitting across from the plaza, having coffee and talking about tourism in Michoacan's capital city, Morelia.
Across the street at the cathedral, a circle of Aztec dancers danced and brass horns bounced through the courtyard as a band stumbled through practice. Later that night as we left the bar, mariachis were standing on a street corner waiting for gigs. A trim musician, his shiny jacket buttons unattached, leaned against the pink stone wall with the glow of the street lamp illuminating the trumpet dangling from his hand. Even the silence here has stories, and the colonial center of Morelia is so well-preserved you could probably press your ear against the walls and hear history.

Morelia is one of Mexico's most beautiful cities, a perfect octagon dotted with over 200 historical monuments. It has always been an intersection of cultures and a central one to Mexico's history. It was one of New Spain's first cities and was later renamed for local revolutionary hero José María Morelos, who went to a local University that still exists today (and was taught there by Miguel Hidalgo, the leader of Mexican Independence). But aside from a few festivals, Morelia gets little foreign tourist attention compared to Oaxaca or San Miguel. I don't think tourism validates a city, but I do think it's a shame for you to miss this place.

Here are some things I did with a weekend in Morelia:

Stay
Casa Xola
There are a few things that make a hotel memorable and one of those is an epic rooftop— and Casa Xola's is paradise. This four-bedroom boutique hotel is a few blocks from the plaza central and each room is thoughtfully decorated with artesania. On the rooftop, I enjoyed the outdoor kitchen and lounge, a fireplace, and views of the cathedral peaking above the layers of tropical plants (mango and papaya trees included). Breakfast, enjoyed at a large dining table in the kitchen, is included: a variety of fruit, cereals, and yogurts were available and the owner, Arleigh will make eggs upon request. All rooms have bathrooms and wi-fi, and the beds are super comfortable.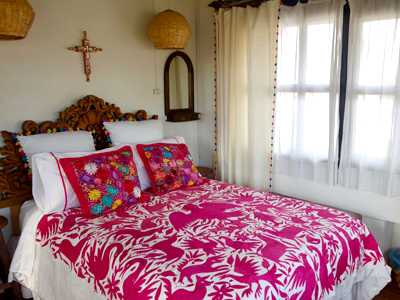 Eat
Mercado de Independencia
As always, the market is a great way to get to know what a city or region has to offer. Discoveries included purple corn, some kind of animal horn, and some really cute bootleg sweat pants. Michoacan is known for its agricultural production, so don't miss the avocados or berries when in season, and definitely get your hands on freshly made tortillas. The area surrounding the food market is pretty expansive, but the important sections— prepared food, produce, butcher, cheese and spices— are an easy tour.


Tata Mezcaleria
I wasn't thrilled about the food, but string me up a hammock and I'll gladly take a honeymoon here. You have to buzz a doorbell to get in, but it feels less like an exclusive club and more like...what's the password to my awesome treehouse? There's a tree with wandering branches hanging over the limestone patio, colorful walls covered in art, and little nooks tucked around the bar. The drinks, mostly pairing tropical fruits with mezcal and tequila, are fun and they've got a nice list of local mezcals as well.

Lu Cocina
Arguably the best restaurant in Morelia, if not one of the best in Mexico. You can't go wrong with breakfast or dinner.  Named for Chef Lucero Soto, the restaurant is housed in an 18th-century building right in Morelia's historic center. Recipes here are based on traditional Purepucha cooking, so if you've been to Michoacan before you'll recognize staples like corundas, rainbow trout, or Patzcuaro-style BBQ chicken. The deep respect for cooking traditions and support for local farmers and producers is evident. Thankfully the modern techniques don't hinder dishes with any kind of pretentiousness but add flavors that are precise and unique.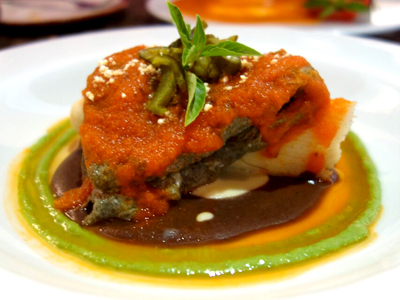 Mercado Don Lucas
As it is the way of things now, the food court phenomena has also arrived to Morelia. At Don Lucas small glass pods with mini retail stores are downstairs, and upstairs open-air kiosks house craft beer and mezcal. There are food stands, and tiered seating areas among the exposed brick, hanging plants and crisp white walls. There are clues though that this isn't Portland: beautiful blue and yellow hand painted tiles downstairs, Huichol beaded skulls on the walls of a retailer, and prices that aren't inflated. I initially anticipated overpriced trendy food but the first thing I ordered cost the same as it would at any taco stand. We ate two tacos from Flor De Canela downstairs -- the bistek in chile negra with a freshly made corn tortilla was my favorite.

Drink
For many people who live north of the border, Oaxaca is immediately associated with mezcal (as most mezcal we see here comes from Oaxaca). But mezcal is actually produced in nine regions of Mexico, and Michoacán is one of the primary producers. Here in the capital city, there's a wonderful selection of mezcal you can taste that you can't get in the U.S. Intrigued?

Tatita
A small mezcaleria with a big shared courtyard. The patio is at the intersection of the Fuente de Las Tarascas, a bronze statue of three bare-chested indigenous princesses, and a park frequently visited by quinceñera parties for photo shoots. Pink limestone arches border the neighboring streets. Inside the bar, lampshades made out of straw cowboy hats hang low, wood boxes filled with mezcal bottles hang on the sky-blue walls, and tables are lacquered with comic books. The menu features mezcal from Michoacán producers and also lists some small food items.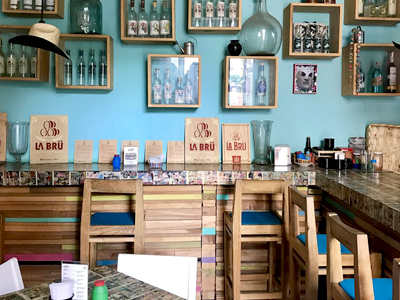 Chango Restaurante
A cute restaurant and bar with painted tile floors, brass lighting fixtures, and a rooftop bar. There's a small list of mezcals on cleverly designed black trays, and I was quite happy with my $45 peso tobala. (A few blocks away from Tata.)

Mezcaleria el Desnivel
Closer to the cathedral, Mezcaleria el Desnivel with its dark walls, loud music, and neon chalk paintings is a little more raucous, but there's a nice list of mezcals and a killer special: $55 pesos for a beer and a mezcal shot (and you bet it's better than any house mezcal in the U.S.).

Do
Jardin de las Rosas
A charming alleyway lined with cafes. The baroque style garden, neighboring college and church were built in 1557. This is a pleasant place to grab a coffee and listen to street musicians.

Centro Cultural Clavijero
An old Jesuit school and monastery built in the 18th century now houses a cultural center with rotating exhibits and events. The courtyard is massive, with seven arcs on each side.

Casa de Artesanias
For an intro into Michoacan's rich artesania culture, come here and walk the rooms and store. Different towns in Michoacán are dedicated to specific folk art, such as handmade guitars, copper, embroidery, and pottery. While heading straight to the source is clearly more fun, this is a good way to get dazzled by these talented artisans. I'd say the store is better than the actual museum.

Palacio de Gobierno
Check out the murals here by renowned Mexican painter (and Michoacán native) Alfredo Zalce.

And of course, wander through the plaza, the cathedral, and the aqueduct.

To follow Ferron Salniker go to www.ferronlandia.com