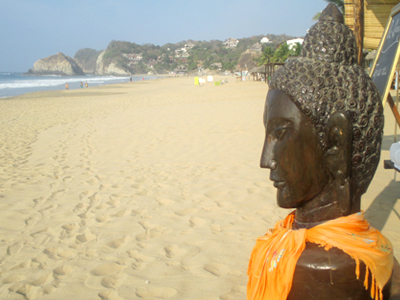 More than a nudist destination, Zipolite, Mexico offers a rare diversity of experience ---
The best travel experiences always happen in smaller destinations that are relatively unknown. The most memorable, rewarding, and authentic experiences happen in unique places that are proactively sought out or accidentally discovered through a freer style of travel.
Zipolite, Mexico is a primo example of a truly unique and authentic place that is natural in its expression of life and lifestyles. It's a diverse and international community where people live as they choose – such freedom and diversity attract visitors from around the world and many visitors become permanent residents.
Zipolite (Zee-poh-lee-teh) is blissfully lost in time, or several times and places spanning from the 19th century to today, and from Mexico to Europe, Asia, the U.S. and elsewhere. It's a mosaic of surfer culture, Bohemian indulgence, European maturity, California hippie-ness, Aztec spiritualism, and the mysticism and healing arts of the Far East. Zipolite is on the road where Buddha met Bob Marley, Montezuma, and Marco Polo.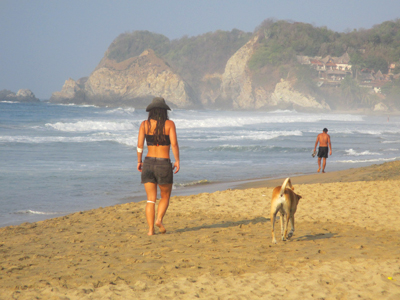 In geographic reality, Zipolite is located on Mexico's Southern Pacific coast between the lovely resort area of Huatulco and the world-famous surfing town of Puerto Escondido. Its relative isolation is a deterrent for casual tourists - only travelers and seekers make the journey to Zipolite, which offers a rare diversity of experience for visitors. In what other place in the world can you join an Aztec wedding ceremony on a nude beach, take a yoga class, watch a live futbol (soccer) game, join a meditation circle, and eat an iguana tamale or an authentic Italian dinner served by authentic Italians? In Zipolite, you can be a time traveler across cultures and in a fusion of cultures.
Freedom is what many visitors and expat residents say they love most about Mexico. On Zipolite's main beach, you can fully express your freedom in the nudist tradition of old-world Europe. Zipolite may be best known as being home to Mexico's only official nude beach, but the clothing-optional beach scene simply represents the town's values – it's an expression of the place, not a tourist attraction.
Europeans have been coming to Zipolite since the 1960's and the European presence here today is represented by visitors and residents from many European countries. Many of the local restaurants are owned by expatriate Italians, but Germany, Austria and the U.K. are also well-represented by town residents.
The spectrum of visitors to Zipolite is represented by the accommodations, from rustic cabins or camping spaces on the beach to expensive eco-chic hotels. Representing Zipolite's original hippie vision is Shambhala, a rustic, beachfront hotel with cabanas, small cubicle-type rooms, and dorm-style accommodations. As one of the first places in Zipolite to welcome foreign visitors decades ago, many people today visit Shambhala to bask in its 60's vibe and enjoy the hilltop views from its restaurant. Not a wild party place, the village-like retreat has a no-drugs policy, which is surprising in a town where attitudes about the use of mar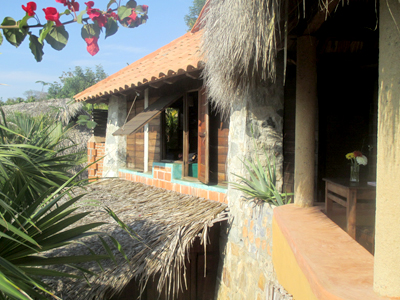 ijuana and other drugs are very relaxed.
At the opposite end of the beach from Shambhala is La Loma Linda, which reflects Zipolite's European sensibilities and focus on vital living and peaceful relaxation. La Loma Linda consists of ten beautiful cabanas of smart design, natural materials, and high quality not usually seen in mid-priced hotels in Mexico.
During our stay at La Loma Linda, we enjoyed yoga classes, massages, and delicious, healthy food prepared by their friendly staff.  Acupuncture, Feldenkrais massage, and other treatments are also offered at La Loma Linda, which is a known as a vibrant center of healthy living in Zipolite. During our stay, we met several travelers from San Francisco, California who were staying at La Loma Linda for a week-long yoga retreat.
The European quality of La Loma Linda is evident, which is no surprise since it's owned and managed by a German family who has their own longstanding love affair with this part of Mexico.
Katja Trautwein says she fell in love with Mexico while traveling around the country years ago. "I visited many small towns before I discovered Zipolite and decided to call it home," she says.
Katja and her husband Dieter opened the hilltop hotel in 2004.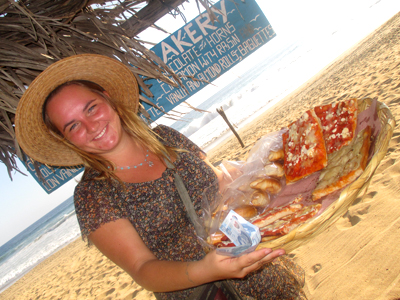 "Many of our guests are Canadians and Americans, along with Germans, Swiss, Italians and other Europeans," explains Katja. "We host more Mexican guests in June and July, and during the Christmas and Easter holidays."
'Rustic and open, exposed to nature but very comfortable', is how Katja describes the suites at La Loma Linda. "It's not for people looking for luxury -- there are other options for that," she states.
Even the expensive hotels in Zipolite focus more on a rustic and authentic experience than indulgent luxury. Regardless of their budget segment, visitors here want a non-typical travel experience.
There are several notable expat enclaves in Mexico that have captured international attention in recent years: Sayulita, San Pancho, San Miguel de Allende, and others. Unfortunately, there is a typical evolution of such places as they often become victims of their own authentic appeal: awareness grows, infrastructure is expanded, tourism and development accelerates, prices inflate and the whole place becomes more like the mainstream destination people were looking to avoid in the beginning.
Fortunately, Zipolite has not become a willing victim of the trend of trendy and pricey evolution. The town has largely resisted mainstream forces and its relative isolation geographically supports its status as an outpost of individuality and refuge from generic tourism.
After years of travel in Mexico, I can say that Zipolite is truly in a category of its own. It's a place of freedom, peace, healing and community that has attracted people from around the world. For many, it's become their home far away from their homeland. "I see it over and over again," says Katja. "People come to visit and then don't leave."