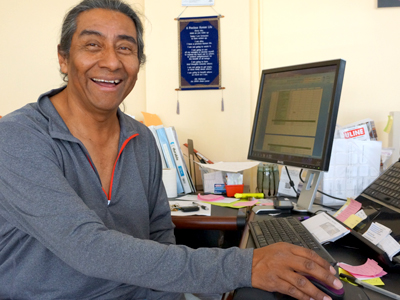 Lotus cleaning, a pioneer of environmentally friendly green house cleaning services, has provided Certified Green house and office cleaning services to most Bay Area cities since 2006. Owner Julio Leiva recently hosted a private event for his employees and families to celebrate a decade of success and caring for the planet, clients and employees.
A flourishing green business that employs more than 40 people, Lotus aims to protect their customers, staff and the planet by using non-toxic products that will not harm individuals health nor house appliances. Julio's commitment to the planet propelled him to start a certified green business in 2006. In addition to training in the cleaning industry, Julio also enrolled at AnewAmerica Community Corporation, a business training program. Since becoming a client in 2002, AnewAmerica has provided Julio with the tools he needed to realize his dreams of starting a business and becoming a successful, and socially responsible, entrepreneur.

Julio valued AnewAmerica's concept of community engagement and social responsibility. Now, as a successful business owner, Julio gives back by mentoring other entrepreneurs. He trains people in business practices and green cleaning methods, both one-on-one and in group workshops. For his service, AnewAmerica is honoring Julio Leiva with an Award for 10 Years of Excellence.

Julio says, "It is not like me to have a business that doesn't have some level of social responsibility. Lotus Cleaning Services must be combined with a lot of ethics, professionalism and high quality service".

For years to come, Julio will continue to inform others about his experiences and the steps he took to become successful, while using green products for a better environmental outcome for his clients.