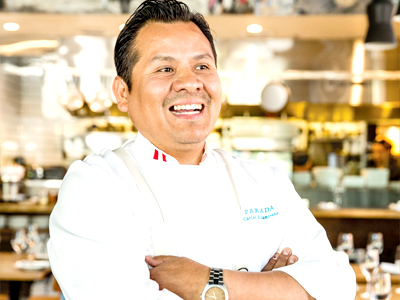 If passion creates innovation, excellence, and success, Chef Carlos Altamirano is a great, local example of such a truth. Altamirano, 44, immigrated from Peru as a teenager and wasted no time pursuing the American Dream. From his mother's influence and guidance, Altamirano's passion for food was already fired when he arrived to the U.S. Working with top chefs in New York and San Francisco gave him a classical training in French and Italian cooking, though his true passion was for Peruvian food.
That passion fueled the creation of his own award-winning restaurant group here in the Bay Area. Chef Altamirano has established himself as the Bay Area pioneer of inspired Peruvian cuisine and one of the few Latino owners/chefs of a restaurant group. Since 2004, Chef Altamirano has opened four successful restaurants serving world-class cuisine that's won many awards.
"Whatever you do, you have to love it," states Altamirano, whose road to success was a long one.
"It was hard to establish everything yourself but you have to keep fighting for your dream," he adds.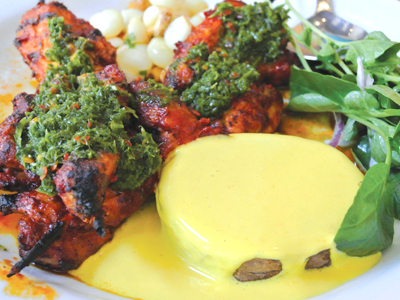 The dream for Altamirano and his wife, Shu, came to reality in 2004 when they opened Mochica, their first Peruvian restaurant in San Francisco. Following Mochica's success, the Altamirano family opened Piqueos, a popular Peruvian tapas bar in San Francisco. In 2009 they established La Costanera, a contemporary Peruvian restaurant overlooking the Pacific Ocean north of Half Moon Bay. A sign of Altamirano's passion and dedication, La Costanera has been awarded a coveted Michelin star several years in a row. In awarding this global standard of fine restaurant dining, reviewers concentrate on the quality, mastery of technique, personality and consistency of the food. Such values accurately describe Altamirano's cooking - traditional recipes are treated to his visionary twists to create dishes that are fresh and unique. He has developed a reputation for creating unforgettable dishes using innovative techniques.
"Techniques are important, like a science," says the chef. At the same time, "you have to be creative, do not lose the flavor, do not lose the key of the food."
Always insisting on cooking with only the finest and freshest ingredients Chef Altamirano founded Alta Farm in Half Moon Bay, a single-acre plot dedicated solely to producing the spicy rocoto pepper, which is used liberally at all of his restaurants.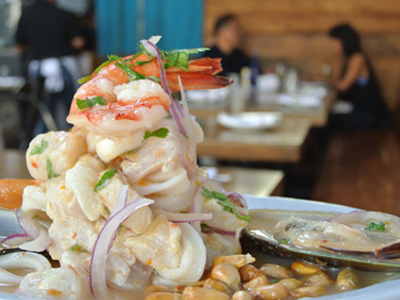 I met Chef Carlos for lunch at Mochica restaurant in San Francisco. It's a casual place offering crafted, artisanal food that is lovingly prepared and carefully presented. The contemporary Peruvian menu incorporates locally sourced ingredients for an eclectic range of dishes. Chicharrones, empanadas, and chorizo stuffed calamari were tempting. I loved the grilled skewers of chicken served with crispy potato, salsa casera and anticucho sauce. Cebiche (ceviche) is featured prominently on the menu, with several different kinds available. I was served the cebiche mixto plate, which had fresh fish, mussels and clams, with shrimp in lime juice-aji rocoto leche de tigre. It was very fresh and a unique combination for ceviche.
Chef Altamirano has established himself as the Bay Area authority on extraordinary Peruvian cuisine. Beyond a chef and restaurateur, I see him as an ambassador for his home country's food – inspiring and encouraging people to discover Peruvian cuisine.
Altamirano continues to reach more people with his inspired cooking. Last year, he opened his fourth restaurant, Parada, which is inspired by the outdoor market of his youth in Lima, Peru. With passion and ambition that seems endless, Altamirano is planning two additional restaurants in the next two years. The obvious question is where his passion will ultimately take him, his business, and his unique culinary craft.