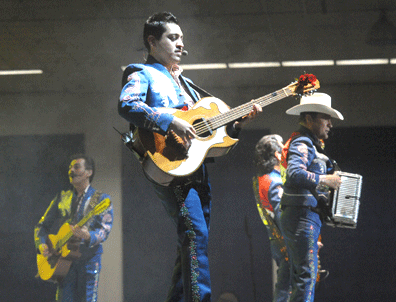 On April 3, Raul Hernandez appeared before a full house at the San Jose Convention Center in an event that brought tears of joy to many. Raul Hernandez has been recording as a solo artist for approximately fourteen years, after leaving his group Los Tigres Del Norte, a group he co-founded along with some of his family members. 
But last Saturday, to the surprise of the entire audience, he joined Los Tigres Del Norte once again and sang some of his original songs. The group sang 
many of their hits that have maintained them on the charts for the past four decades, keeping the norteño-style music alive in the hearts of many folks.
Corridos like: "Jefe de Jefes"; "La Jaula de Oro"; "La puerta negra" and "La banda del carro rojo" blared to the max to the delight of the all-standing crowd. Marquez Brothers productions had helped make Los Tigres del Norte whole again.
Los Tigres Del Norte is a norteño-band ensemble, originally from Rosa Morada, Sinaloa, Mexico that moved to San Jose, California in the late 1960's. The group was started by Jorge Hernandez "el jefe de jefes" (the chief of chiefs).
The actual members are Jorge, Hernan, Eduardo, Luis Hernandez and Oscar Lara on the drums. Among the former members were Raul Hernandez, Guadalupe Olivo and Freddy Hernandez (deceased).
This now local band has won five Latin Grammy Awards and sold more than 32 million records. They have performed before the United States Armed Forces in Japan and South Korea.
Many of their recent songs describe the perils of living in a borderline state, immigration, love betrayal and the narcotic culture. For the most part the lyrics portray 'real life" stories, which strike a cord with people across the continent.
At the San Jose performance, Los Tigres del Norte closed for Conjunto Primavera, El Coyote y su Banda Tierra Santa, and Grupo Montez de Durango in the most spectacular concert of the spring.
Photo by Rigo Galvez