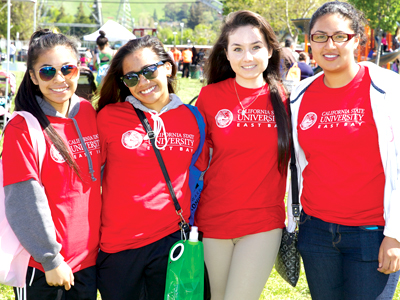 The Jackson Triangle is an ethnically diverse, low-income neighborhood in Hayward that is bounded by Harder Rd., Whitman St. and Jackson St. The area is the focus of Hayward Promise Neighborhood (HPN), a five-year, $25 million initiative to improve the lives and academics of students from pre-school to college.
The numerous programs that represent HPN are designed to improve academic performance in primary schools and create a college-going culture that encourages students and their families to view college as an option.
Elia Muniz has a six year old daughter at Harder Elementary School and has completed two Hayward Promise Neighborhood programs: Loving Solutions and Project 2 Inspire.
"I learned a lot about the education system and my rights as a parent," says Muniz. "I also learned about the various testing requirements needed to graduate from high school."
Another parent training program is The Parent Project, which is offered at several schools for parents who have students that are challenged with issues such as gang involvement, drugs, and truancy. The primary goal is to reduce family conflict, juvenile crime, the rate that students enter juvenile hall, and to improve student performance, attendance, and the overall family unit.
While parents often need their own education, most programs of HPN are focused on students. This year, there is a greater focus on providing high school students with a first-year college experience that assists their transition from high school to postsecondary education. Programs offer academic and counseling support, mentoring, career exploration workshops, and guidance in choosing areas of study. Students also receive support in math and English skills to improve college placement scores. Other college and career readiness activities held at HPN target schools include educational enrichment activities such as field trips to colleges and universities and family nights providing information on financial aid and the college application process.
Maria Escandon is a Hayward parent who also completed two Hayward Promise Neighborhood programs: Parent Promise Academy and Project 2 Inspire.
"Project 2 Inspire really opened my eyes to so many things about the school system that I didn't know," says Escandon. "I learned about the new Common Core standards, standardized testing requirements and how to help my son prepare for college. These were all things I didn't know anything about but wanted to learn so this class was a huge help to me."
The HPN programs also educated Escandon about the importance of giving her son healthy food. "I use to give my son Capri Sun's all the time and I never really thought about all of the sugar in those," she said.
Cal State East Bay is the chief agency for HPN and it works with several partners, including the Hayward Unified School District. In addition to Jackson Triangle residents, HPN also provides programs and resources for students that attend six schools within the Hayward Unified School District. As part of Hayward Promise, Cal State East Bay students spend time tutoring students in elementary, middle, and high schools in Hayward. Cal State students help out in classrooms, career centers and after-school homework centers.
"Cal State East Bay was designated the lead agency and is responsible for distribution of funding to its partners," said Melinda Hall, Executive Director, Hayward Promise Neighborhood.
"We do a lot of parent education," says Hall. "We've learned that they often don't have the information they need to prepare themselves for higher education. It's on us to make sure parents and students are prepared for those opportunities for post-secondary education."
Speaking about the success of HPN, Hall states that, "In some areas, the growth is not as what we would like." She adds that HPN is only in its fourth year. "This is just the beginning, she says.
For more information on Hayward Promise Neighborhood, visit www.haywardpromise.org.