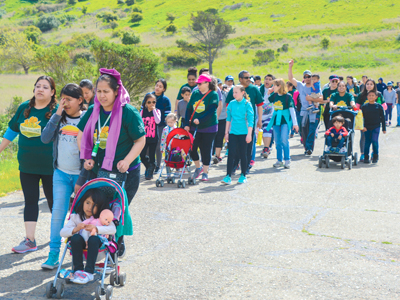 When Bay Area residents talk about what they value the most about living here, access to nature and outdoor activities are usually near the top of the list. We are very fortunate to be surrounded by a great amount of natural beauty, including a system of regional parks that is the largest urban regional park district in the United States.
The East Bay Regional Park District (EBRPD) represents a fortune of outdoor spaces, natural beauty, and activities so vast and diverse that even frequent visitors have explored only a portion of what it offers. Spanning Alameda and Contra Costa counties, the park district comprises 121,000 acres, 73 parks, and more than 1,250 miles of trails for hiking, biking, horseback riding and nature learning.

"East Bay residents have diverse interests - they like to be active and exercising, they enjoy the natural environment, and just using their senses to experience places of nature," says Carol Johnson, Assistant General Manager at East Bay Regional Park District.

With more than 1,250 miles of trails within its parklands, EBRPD offers year-round enjoyment of walking, biking, roller blading, and horse riding. There are trails of every length and difficulty level, and different parks highlight different habitats and landforms of the region. To encourage enjoyment of the trails, each year the park district sponsors the "Trails Challenge" program for the adventurous who enjoy exploring new parks and trails. The district offers many ways to make it easy for people to enjoy and explore the trails with programs such as:

• Challenge Hikes: Challenging trails are those that have significant elevation gain (1,000 feet or more), are 6 – 20 miles or more in length, and generally take 4 – 8 hours to complete. 

• Wednesday Walks: Explore some of the unique habitats of the East Bay with a friendly walking group.

• Hiking 101 Programs: Start a healthy hiking habit by joining experienced Outdoor Recreation staff for free introductory hiking classes.

One of the most popular trails in the East Bay is The Lake Chabot Loop Trail, a 12-mile trail for walking and biking around the entirety of Lake Chabot. Many people spend a big part of their day to circle the entire lake, though most walk only parts of it to enjoy the nature and the lake views.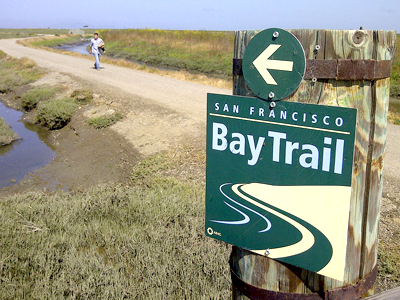 Perhaps the ultimate Bay Area trail is the San Francisco Bay Trail, a planned 500-mile walking and cycling path around the entire San Francisco Bay. Running through all nine Bay Area counties, 47 cities, and across seven toll bridges, the trail currently spans more than 350 miles of trails, which connect communities to parks, open spaces, schools, and transit. It also provides a great alternative commute corridor. The ultimate goal of the Bay Trail is to build a continuous shoreline bicycle and pedestrian path for all to enjoy. EBRPD is a key player in the huge project. The district announced this year that it will extend the San Francisco Bay Trail between Buchanan and Gilman streets west of Golden Gate Fields in Albany – one of the largest remaining Bay Trail gaps in the East Bay.