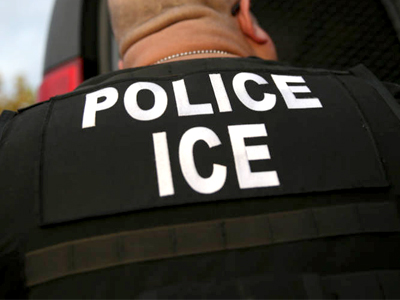 Following the release of President Trump's immigration enforcement executive orders and implementation memos, there has been widespread confusion about where immigration enforcement can and cannot take place.
Questions and concerns stem from the Department of Homeland Security's (DHS) written policies regarding "sensitive locations," which state that "enforcement actions at sensitive locations should generally be avoided, and require either prior approval from an appropriate supervisory official or exigent circumstances necessitating immediate action."

DHS has stated that the sensitive locations guidance remains in effect and has not changed. But elected officials and community organizations, as well as immigrant and domestic violence advocates, have publicly questioned this assertion—pointing to the courthouse arrest and incidents near churches.

Memoranda from DHS component agencies Immigration and Customs Enforcement (ICE) in 2011 and Customs and Border Protection (CBP) in 2013, along with FAQs currently posted on both the ICE and CBP websites, define applicable enforcement activities as "any action taken by ICE or CBP to apprehend, arrest, interview, or search an individual, or to surveil an individual for enforcement purposes."  Sensitive locations covered by the guidance include, but are not limited to:

• schools (such as licensed daycares, pre-schools, or other early learning programs; primary, secondary, and post-secondary schools including colleges and universities; education-related events and activities; and marked school bus stops when children are present);

• medical treatment and health care facilities (such as hospitals, doctors' offices, accredited health clinics, and urgent care facilities);

• places of worship (such as churches, synagogues, mosques, and temples);

• religious or civil ceremonies or observance (such as funerals and weddings); and

• during a public demonstration (such as a march, rally, or parade).

Notably, until this month both FAQs stated that while courthouses are not considered sensitive locations under the guidance, enforcement actions:

"will only be executed against individuals falling within the public safety priorities of DHS's immigration enforcement priorities set forth in the November 20, 2014, memorandum from Secretary Johnson… Such enforcement actions will, absent exigent circumstances, not lead to arrest of non-targeted individuals and will, wherever practicable, take place outside of public areas of the courthouse."

As of February 24, this clarification is only listed on CBP's website. Advocates have pushed for years to include courthouses as sensitive locations, citing demonstrated concerns that the presence of immigration officials has a chilling effect on immigrants' willingness to participate in the judicial system—including reporting crimes and providing testimony

Community groups point out that the new enforcement regime under the Trump administration has also made students more fearful of attending school. Local officials throughout the country have pushed for greater assurance that schools remain off-limits for immigration activities.

Public school officials in at least seven other states have issued instructions or passed resolutions reaffirming their commitment to protect students. To date, school districts in Austin and Houston, Texas; Denver, Colorado; Pittsburgh, Pennsylvania; Eugene, Oregon; Los Angeles, California; and Santa Fe, New Mexico have affirmed their support for students and families facing a new reality under Trump.