"There are 120 different languages spoken in Oakland and the diversity here definitely influences the culinary scene," says Geneva Europa to a group of food lovers in downtown Oakland. Europa reaches into her bag and pulls out a box of pao de queijo, traditional Brazilian pastries made by a local pop-up business. Also in the bag is a thermos of Blue Bottle's New Orleans style iced coffee, packs of candied bacon popcorn, and an iPad equipped with historic photos of Oakland's waterfront district. Europa is a tour guide, and on a recent Saturday afternoon she's leading a group through the streets surrounding Jack London Square. Pausing at historical buildings, she tells the stories of past and present neighborhood change-makers, and opens the doors to pastry shops, wineries, and restaurants.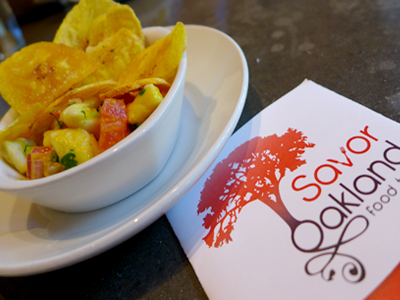 Europa and her husband, Carlo Medina, are the entrepreneurs behind Savor Oakland, a new business providing walking food and culture tours of Oakland. "Oakland is multifaceted - there's great history, great art, great food and great culture, and we're about promoting that," said Medina. Their business idea was born when the couple spent six months traveling Central and South America and fell in love with Colombia. The parallels between their hometown and some of their favorite Colombian cities were evident. "Both have booming culinary scenes and amazing art, and both have this negative image that prevents people from visiting," said Europa. "It's just a shame that these cities are labeled as dangerous, because people don't see the other sides of them."
Savor Oakland's first tours are of the Jack London district, home to what once was the heart of Oakland's port and railroad activities, and still home to the bustling wholesale produce market— now just down the street from a handful of new restaurants. The tour's main stops include Chop Bar, House of Chicken and Waffles, Urban Legend Cellars, Bocanova, and Miette. Bocanova is the tour's only stop featuring a Latino-influenced menu. As Europa explained to the group, Bocanova's Chef Rick Hackett was inspired by the Latino sous-chefs and cooks in his previous kitchen, who made dishes from their home countries for the restaurant staff meal - the informal meals restaurants serve to staff before or after a shift. Bocanova's menu is Pan-American cuisine made with Californian ingredients. On the tour's tasting menu was a Peruvian ceviche served with plantain chips and Mexican churros.
"We definitely want to show the Latino influence in the city's food diversity," said Medina. "Even within the Latino community, there are different varieties of how you can approach food- you can have authentic food to a particular country like Peru, or tacos at taco trucks, you can have fusion like Bocanova, or Mexican farm-to-table at Nido — and it's all going to work in Oakland."
Richard Fuentes, legislative director for Oakland City council, was on the tour and said that while he enjoyed his experience at Bocanova, he hopes that Savor Oakland will consider expanding tours to Fruitvale. "Many people see the Fruitvale as a diverse neighborhood with various Latin American cultures, and I think it would be amazing to showcase the restaurants and the history in that neighborhood," said Fuentes.
For now, Savor Oakland is finishing out its first month in business and planning where to tour next.