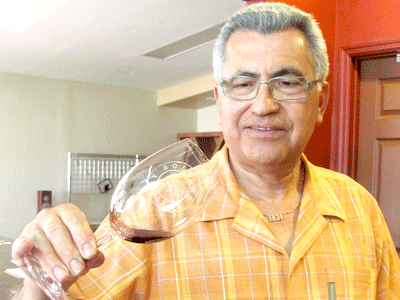 When Julio Covarrubbias got his first job in the vineyards, he knew nothing about wine. "My passion for wine was born while doing seasonal work in the fields," he says. "I was 17 when I began working for the Wente family and 38 years later, I still work for them."
Covarrubbias is now vineyard manager for Wente Vineyards, a fourth generation family-owned winery with more than 2,000 acres of vineyards in the Livermore Valley, which is located about 20 miles East of Hayward. In 2002, with savings earned from flipping houses, Covarrubbias bought 21 acres of land and began his own vineyard.
Covarrubbias is among a new generation of Mexicans and Mexican-Americans in the wine business who are moving beyond field work and establishing a new place for themselves and their children in the industry. In the Livermore Valley and other wine regions, Latinos play important roles in the vineyards, in the cellars, and in the winemaking business.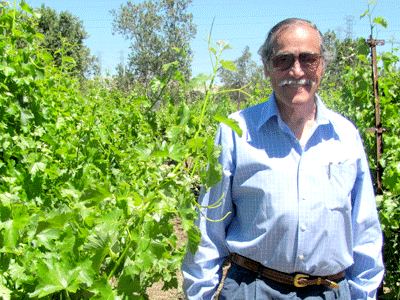 "No one could understand how a field worker could afford to buy land," said Covarrubbias as he rests his hands over one of his Petit Syrah vines. His grapes are sold to several neighboring vineyards including Nottingham Winery and McGrail Vineyards & Winery, both of which have received industry awards for wines made with Covarrubbias' grapes. It's his dream that his granddaughter will become the first family vintner. "People think this vineyard is mine, but it's not. It's for my granddaughter," he said, smiling.
Ernesto Hernandez spent his childhood working on a cattle ranch in Michoacan, Mexico.
"I grew up in a poor, humble town, where most of the time we couldn't even afford shoes," he said. "But thanks to my father, I learned how to work hard and work on the land."
Hernandez's skills took him not to the vineyards, but to the grounds surrounding them. Initially hired as a gardener at Concannon Vineyard, Hernandez is now the head groundskeeper responsible for the winery's popular picnic area and elaborate topiaries.
"I care for things here as if they were mine," he said smiling as he watched families sit on the lawn.
Ernesto's wife spent time working in production at Concannon Vineyard, and the two have raised three children in Livermore, all college educated.
Dr. Sergio Traverso, co-founder of the winery Murrieta's Well, came to the United States from Chile with no intention of being in the winemaking business.
"In 1969 I came here not to study winemaking, but to pursue a career in research and teaching," he said. "But in the meantime the coup d'état came in Chile and all the universities ran out of money for research, so there was no chance to go back there and do what I wanted to do."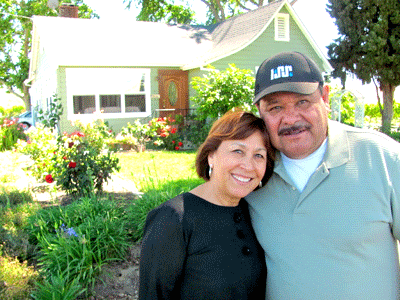 Influenced by his family's winemaking experience in Chile, Traverso shifted into winemaking and joined the department of viticulture and enology at UC Davis. Since then, he has spent forty years consulting and winemaking around the world and emerged an authority on the region's climate and industry.
"Everything has changed since I arrived here in '81. In terms of viticulture, winemaking, marketing— the whole view of wine has changed and I can say I've been a part of it," he said.  
Dr. Ricardo Aguirre, founder and winemaker at Bodegas Aguirre Winery, is one of the newer winemakers in the Livermore Valley, planting his first grapes in 1996 and making his first commercial wine in 2002. To date, he's made 33 different varietals, rotates at least 14 wines on his tasting list, and has earned more than 60 awards for his wines— all while working full-time as a heart surgeon. A native of El Salvador, Aguirre says that 10 percent of his visitors are Spanish speakers, but he's seeing that number slowly increase.
"They are very inquisitive, which is what they need to do to get up to speed," he said. "Wine tasting is the simplest of all endeavors - for the most part, it's just tasting, tasting, and tasting, and fairly soon you'll make up your own mind about what you like."
Aguirre applies similar persistence to his winemaking goals. "My dreams have already been fulfilled," he said, citing a positive reception for his products early on. "You are never satisfied in the sense that you always want to make the perfect 100-point wine, but I don't usually have dreams— I have goals, and my goal is to make a really good product day in and day out."