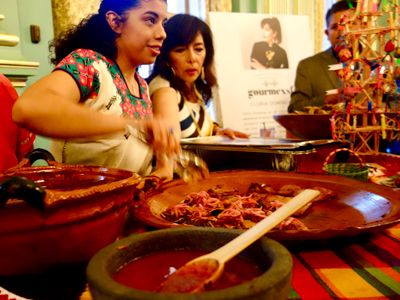 On May 16th, the Consulate General of Mexico hosted an evening celebration of Mexican gastronomic talent in the Bay Area featuring local restaurants, wineries and Mexican spirits. Under the high ceilings and in the glow of the gold and teal walls of the San Francisco War Memorial & Performing Arts Center Green Room, guests enjoyed bites from Tamarindo, Loló, Uno Dos Tacos, LV Mar, Cala, El Buen Comer, Casa de Chocolates, and Mezcalito. Here were our favorite themes and flavors of the event.
1. Chefs brought their most representative dishes, which illustrated the diversity of dishes in Mexican cuisine. We loved Loló's mezcal-braised short ribs with pickled onions and a rare wiri-wiri pepper salsa, Cala's signature sweet potato with bone marrow salsa negra, and a vegetarian crowd-pleaser from Oakland-based Tamarindo, the platano empanadas.

2. Cocktail heaven. The balcony was so stacked with wineries, tequila, mezcal, and cocktails, it's a good thing our favorite buzz-stabilizing snacks (tacos) were easy to access. Our favorite cocktail was the Camino a Oaxaca: LV Mar's anise-spiced mezcal drink laced with absinthe. The star of the night was the Yucatan's Xtabentún, a liquor made with anise seed and fermented honey from the nectar of xtabentún flowers. The origin of xtabentún is surrounded by the legend of a mistreated, beautiful woman banished from her community, and from whose tomb grew the most fragrant flowers (called xtabentún) symbolizing her overlooked virtue.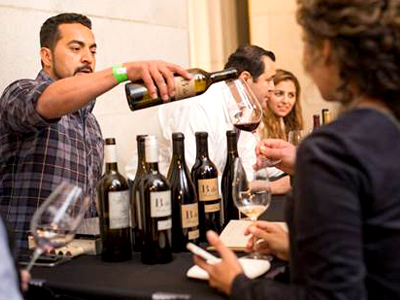 3. Desserts filled with heritage (and cajeta). Casa de Chocolates makes thoughtfully crafted bonbons, bars and other desserts emblematic of the history and flavors of Latin America. A few on display combined chocolate with tequila, cajeta, and mezcal with sal de gusano.

4. MAVA, the Mexican-American Vintners Association has expanded since its revival in 2010, now including wineries south of the Bay Area. The group promotes the contributions of Mexican-Americans in the wine industry, and represents the increasing number of Mexican-American vineyard owners, many of whom were introduced to the trade while their parents worked in the fields. "It's wonderful to be at this event and to show consumers that we are making the same and better quality as other vintners," said Ines DeLuna, the board liaison.

5. The event was a "celebration of the Mexican restaurants in the Bay Area", but Consul General Gemi José González made a point of reminding the crowd that it was also a celebration of the Mexican workers who are the foundation of the Bay Area restaurant community.
 
For more information about the wineries, chefs and other participants visit http://gourmexsf.org